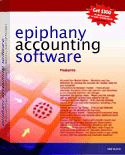 Power packed – Feature packed ! Epiphany Accounting Software is the premier mid-priced, high-end business operations software in the market today – fusing together all the important business functions of an accounting program in one easy-to-use package.

Written in Microsoft Access, Epiphany Accounting Software offers complete customization capabilities to fit your exact requirements. Therefore Epiphany Accounting Software not only reflects but also enhances how you conduct business. Whether you are a retailer, manufacturer, distributor, or service provider, our team of professional consultants and designers will create the correct solution for you.

Scalability is another consideration when choosing your accounting package. Epiphany Accounting software boasts power and scalability through the use of the Microsoft SQL server database. Optimizing for SQL Server gives you the power to expand like never before and thereby bypassing the need for "upgrades" that are required from other accounting packages.

Epiphany Accounting Software features a user-friendly graphical interface for supreme ease of use. For the more complex tasks, online support and context sensitive help screens lead the way.

Are you currently outsourcing your payroll due to the "complexities" of payroll processing? We've added a fully integrated payroll processing system within the program, in addition to all of the standard Accounting Modules, thereby providing you a complete office solution with just one application.

Putting your business online is easy with Epiphany E-Store. Epiphany Accounting Software has available an e-Commerce web module which allows you to provide a "dynamic, real-time" e-Commerce Web site. Want to manage your own website? We also offer Epiphany Content Manager, a "point and click" web product that allows you to generate web pages and menus with little or no programming knowledge required.

Epiphany Accounting Software includes the following Modules: Accounts Receivable, Order Entry, Accounts Payable, Banking, Purchase Order, Contact Management, Inventory Control, Payroll, General Ledger, Job Costing, and System Management.

Visit our web site at http://www.epiphanyaccountingsoftware.com
---

Do you want to increase the efficiency of your business by 5%-10%? Epiphany Groupware will provide you the tools to eliminate repetitive or inefficient processes during your business day.
Epiphany Groupware allows your business to share information on a one-to-one or one-to-many basis. Even with people outside your organization. There are no compatibility issues, no updating issues, and no training issues.
Epiphany Productivity Software is a web-based service that provides features you would find in Outlook, Timeslips, and AOL including calendaring, project management, email, timecard system, faq system, bulletin board, chat room, and file library. Additional services include virus scanning of email, spam filtering, and web site hosting.
With Epiphany Productivity Software you can audit staff appointments, manage projects, audit timecards, create a CRM (Customer Retention Management) program, and create a training program for your staff. This service will allow you to share information like never before with people inside and outside your organization. It is also fully customizable (see customization charges) to match how you conduct business.
Visit our web site at http://www.epiphanygroupware.com
---